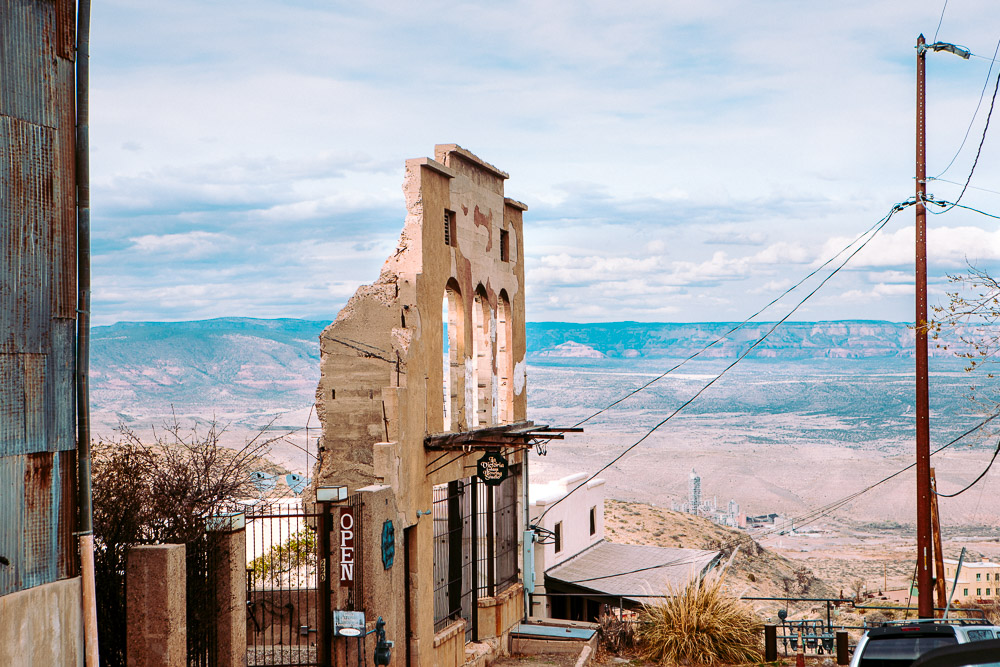 I'm camping for free on BLM land near Sedona. It's indescribably beautiful. The drive here over highway 89A from Prescott was crazy, crazy fun and steeeeep: Elevation climb of about 2500 ft. (760 m) in about 10 miles (16 km) with switchbacks, blind corners, and I was towing my trailer – whooooohooo! I camped at the top of Mingus Mountain on National Forest Land (free) in the pines and fresh, fresh air, completely alone in that silence. When I woke up there were 8 big deer all around my trailer getting up on their hind legs to eat something out of the pine trees.
When I came down the hill to Jerome the next day, I stopped at a scenic viewpoint and discovered my brakes were smoking and stinky. That was definitely one of the scarier parts of this trip so far. My knees were weak at the thought of losing brakes on that steep downgrade with all the big cliffs. (brakes were fine, just hot – I'm safe and sound)
Jerome is a great place to visit, and thanks to my stop at the scenic viewpoint before I finished descending the mountain, I got the inside scoop on a parking place big enough for my trailer. That allowed me to spend a few hours hanging around taking some photos and looking at nice art.
Now I'm near Sedona in the Red Rock area on BLM land with the views below all around me. It snowed last night and today a little, but I'm staying warm and cozy. Hope the photos are okay!